AMPERE on the Embedded Executives Podcast
AMPERE on the Embedded Executives Podcast
Eduardo Quiñones, AMPERE Coordinator at the Barcelona Supercomputing Center (BSC), was featured on the Embedded Executives podcast by Rich Nass on 27 May 2020. In the podcast it is discussed how the project aims to ensure that embedded systems are maximized, using the technology that is typically employed for today's supercomputers.
Rich Nass, Executive Vice-President of OpenSystems Media as the well-experienced host and professional he is, achieved to create a narrative bandwidth that helped his audience to delve deeper into the AMPERE project technical details, its use cases, the project's funding, and Eduardo Quiñones' background.
The AMPERE project is working towards developing a new generation of software programming environments for low-energy and highly parallel and heterogeneous computing architectures, capable of implementing correct-by-construction advanced Cyber-Physical Systems (CPS).
Among AMPERE's objectives are:
Fully exploiting the benefits of performance-demanding emerging technologies such as artificial intelligence or big data analytics. 
Provide a system design ecosystem optimized for Cyber-Physical Systems.
Provide a computer software ecosystem capable of efficiently exploiting advanced energy-efficient and parallel heterogeneous platforms.
Integrate AMPERE software solutions into two relevant industrial markets, i.e., automotive and railway.
Listen to the podcast here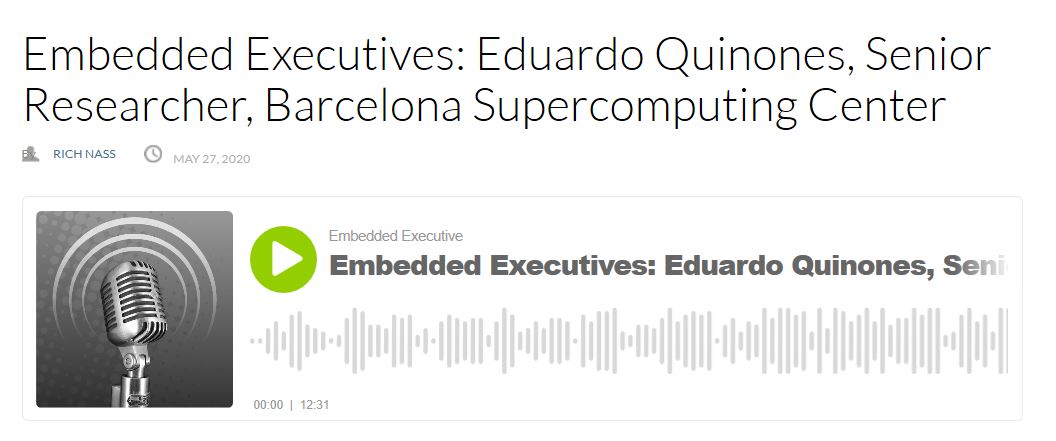 Embedded Insiders
Hosted on the Embedded Computing Design website and Soundcloud, the Embedded Insiders Podcast delivers routine audio coverage of the embedded, IoT, security, automotive, AI, and other technology marketplaces in a light and fun format. It counts with more than 6,000 weekly subscribers.
Main photo: Screenshot of Embedded Executives website.